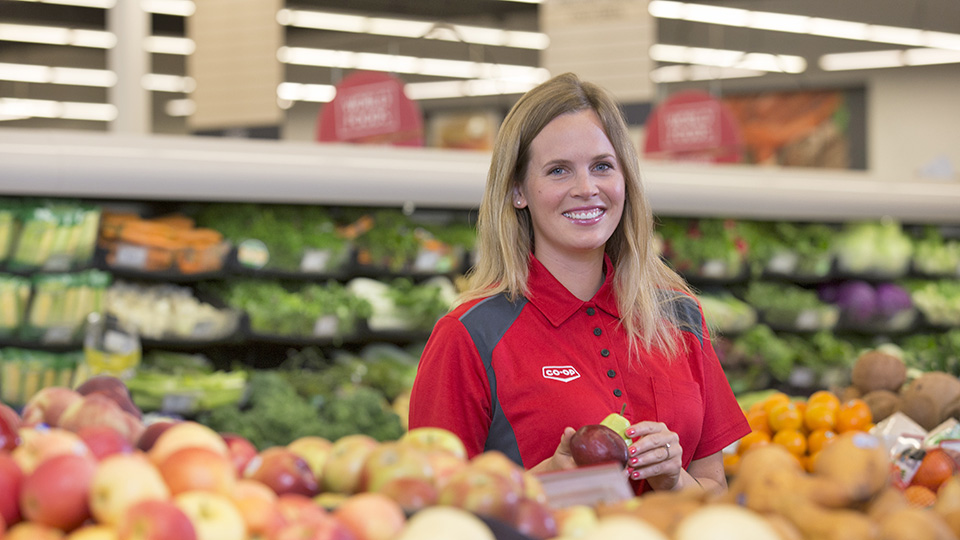 Co-op Food
September 25, 2019
Your local Co-op can meet your grocery needs, all while offering service with a smile! Visit us for a great selection of competitively-priced food products. We have a wide variety of national and store brand items.
Please see our Hours, Contacts and Location Info page for location details.
---
Grocery
As soon as the yellow flyer hits the doorstep, Humboldt Co-op customers know it's the start of the Gigantic Warehouse Sale. It's a popular time to restock the pantry, with a wide assortment of specials. The 10 for $10 is another popular week with some outstanding promotions... and remember you don't have to buy 10 to get the discounted pricing.
Produce
A colourful array of items await you and they are always fresh, flavourful and regularly updated. Co-op provides only the highest quality of name-brand produce. Well stocked, crisp and juicy, it's just the way you want it at Humboldt Co-op.
Meat
Co-op's meat department staff professionally trained to provide the best cuts for you and your family. With butchers on staff, you know it's going to be fresh and exactly what you want...and if you want a special item, they'll be sure to take care of it for you. Your next barbecue just got a little better, with a little help from your Co-op meat department.
Deli
The new Humboldt Co-op Food Store features an expansive deli section. Visit our friendly deli staff for custom cuts of deli meats, unique cheeses, cooked whole chickens and ready-to-go soups, salads and more.
Bakery
The Co-op bakery is known for a large assortment of cinnamon buns, grain breads and cakes, including picture cakes. Follow the great smell of newly baked goods to our bakery department. Whether it's a birthday, barbecue or a pot-luck, you'll find unique items for your next family gathering. Check back each week for our ever-changing line up of baked goods.
Kodak Photo Centre
Visit the Humboldt Co-op for great Kodak quality images. Calendars, prints and collages are all available in various sizes. Bring an image to scan, your camera card or flash drive and print away!
Co-op Food Store Brands
Co-op delivers high-quality products from a variety of national brands as well as our own private-label brands.
For information about our store brands, please visit our Store Brands website.

Discover more: